Our Partners
Eduardo H. Soerensen Garcia
ehgarcia@soerensengarcia.com.br
Eduardo H. Soerensen Garcia is graduated in Law from Universidade do Estado do Rio de Janeiro (Rio de Janeiro State University), with a MBA degree in Finances from IBME. He participated in training sessions at Insead (France) and Fuqua School of Business (Duke University-USA).
He began his international career in an audit company, acting as a tax consultant. For more than twenty years, he acted in a multinational group, and in the last ten years, he worked as a Legal Director and CFO, being also indicated as a member of the Board of Directors in investee companies.
He has international and local experience in mergers and acquisitions, public offering of shares, financial operations and corporate restructuring, mineral law operations, tax planning, real estate operations, arbitration, strategy and budget preparation.
He also acts in all stages of contractual composition, and in the structuring and implementation of compliance programs.
He is fluent in English and French.
Priscilla Fernandes Babo
pbabo@soerensengarcia.com.br
Priscilla Fernandes Babo is graduated in Law from Universidade Cândido Mendes – RJ, has a post-graduate degree in Civil Procedure from Pontifícia Universidade Católica do Rio de Janeiro (Pontifical Catholic University of Rio de Janeiro), LL.M in Corporate Law and Capital Markets from Fundação Getúlio Vargas, Member of the Instituto Brasileiro de Direito Empresarial (IBRADEMP).
She acts in the area of civil and business consulting, assisting companies in daily corporate and contractual operations.
She has experience in the areas of civil, tax and administrative strategic litigation, as well as in the conduction of due diligences for acquisition of companies. (it continues).
She participated in several courses and seminars in the areas of Civil, Corporate and Business Law, with a focus on contracts (pre-contractual responsibility and contractual negotiation).
She is fluent in English.
Thalita C. Nascimento Moreira da Silva
tmoreira@soerensengarcia.com.br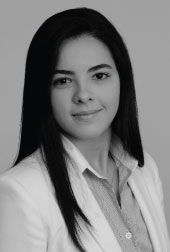 Thalita C. Nascimento Moreira da Silva is graduated in Law from Universidade Federal Fluminense, with certification in defense and protection to the consumer.
She has experience in support to international arbitration procedures, administrative and judicial, tax, civil and intellectual property proceedings.
She acts in the preparation of legal opinions and submission of formal consultations for the various administrative and tax agencies, including regulatory agencies and protection sectors to competition.
She is fluent in English and Spanish.